www.pabeekeeper.com
The 2015 package season is over, we will
be taking orders for the 2016 season in November.
Thank you for the opportunity to serve you. We welcome your
stories and feedback. Do not hesitate to contact us
for advice or an ear to listen to your experience.
We do not have queens for sale.


Please contact your local bee organization for queens or queen cells.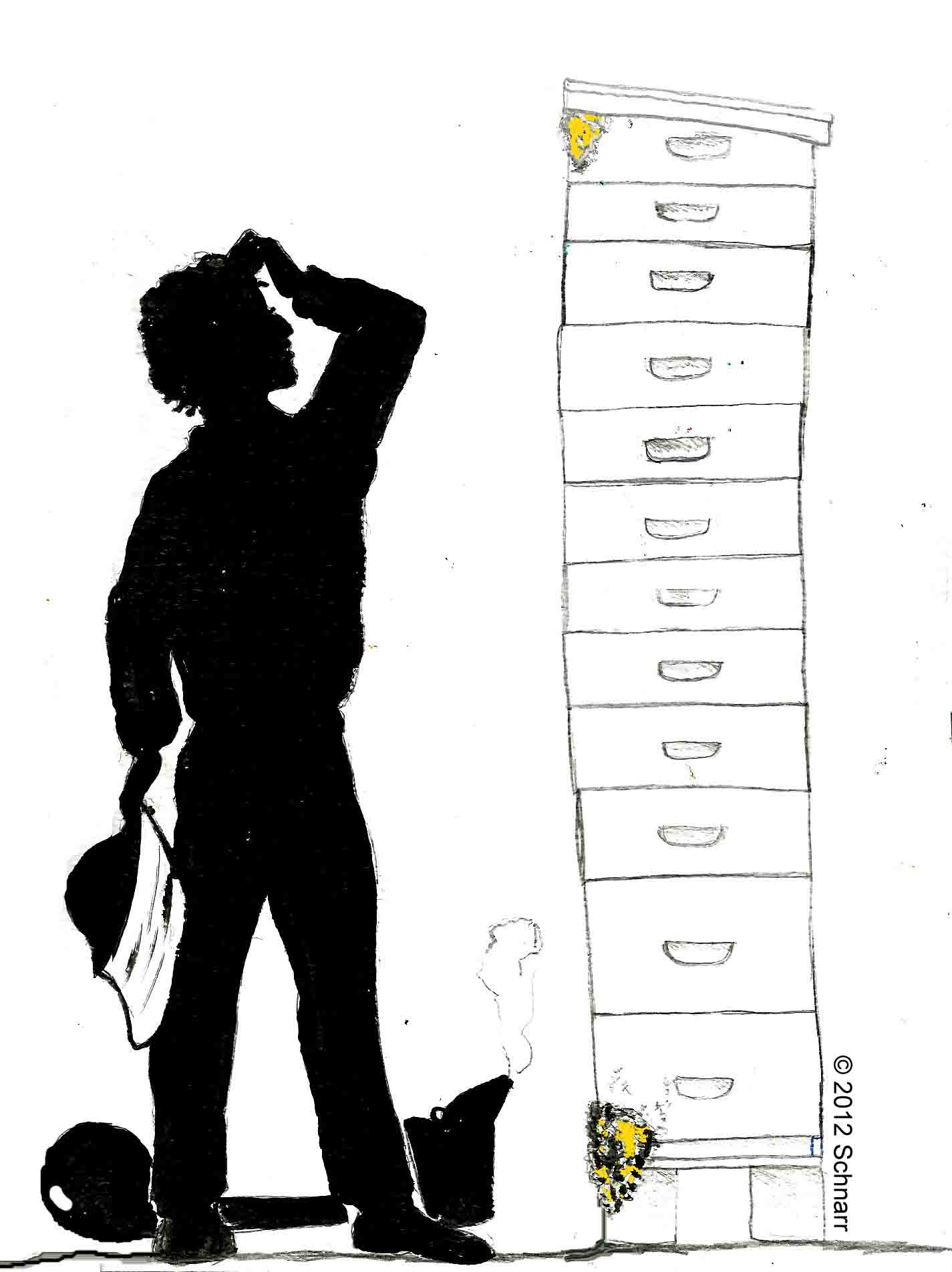 Available for pickup Saturday, April 2, 2016* or Saturday, April 23, 2016* afternoon.
(* Actual date depends on weather.)
Order your packages in November for pickup after noon on either Saturday, April 2, 2016* or Saturday, April 23, 2016*. At 2:00 P.M. on the day of pickup, see a demonstration on installing package bees. Conveniently located in the exact center of Montgomery County near Valley Forge, Norristown, and Lansdale turnpike exits.  Package includes 3-pound workers with Italian queen.
Click here for Package Order Form.
Please do NOT return empty packages, we are no longer recycling package containers.

The last class will be Sunday, July 19, 2015.
Our next meeting is scheduled for Sunday, July 19, 2015. We will meet at Worcester Honey Farms, 2011 Shearer Road, Lansdale, PA. This is where you picked up packages, if you ordered through Worcester Honey Farms.
Please bring folding chair, veil, smoker, and hive tool, if you have them. Bring your questions. There will also be a pot-luck, so please bring a dish to share. (Dishes with honey get a gold star. Deviled eggs and oatmeal cookies are always welcome.)
We will be extracting honey, so bring your supers if you have any honey that you want to extract. We will have jars for sale, if you want to bottle the honey, or bring a container if you want to take it home in bulk.
This course is scheduled for five Sunday sessions from February thru July at Worcester Honey Farm. Only 25 people for each group of classes will be accepted and advance registration is required.
The instructor is committed to present a knowledgeable and enjoyable, interactive, and intensively hands-on workshop. We are friendly and encourage you to contact us throughout the course for advice, help, or a sympathetic ear.
Become comfortable opening and working your hives, touch bee's shoulders to get them to move over, hive a swarm from a crabapple tree, bring your honey to extract on the last class, and inspect hives―there will be hives set up with typical beekeeping problems such as laying workers―and resolve any problems found. All this plus beekeeper camaraderie and tasty appetizers.
Click here for more Hands-On Beekeeping information.
Click here for a registration form.
Enrollment status: Class full.
Worcester Honey Farms, Inc.
2011 Shearer Road, Lansdale, PA 19446

Web Site: www.pabeekeeper.com
Warranty Information and Recommendations

Queens:

Please inspect your queen before you take her. Be sure she is alive and kicking. Check that corks are in both sides of the cage. Once you receive the queen, it is your responsibility to keep her alive.

Do not put place her in the light--that will kill her. Keep her in the dark at room temperature until you install her in the hive.

You must remove any existing queens before you install the queen. It is an extremely good idea to move a frame of eggs over to the hive first, and then check in 2-3 days to see if they form a queen cell. If they do not form a queen cell(s), your queen will probably not be accepted. If you see multiple eggs or many drone cells, See Laying Workers below.

If you do have a problem with queen acceptance, please let me know and you may purchase a queen at my cost subjecdt to availability.

Packages:

Please inspect your package carefully before you accept it. If you are unhappy with the package for any reason, do not take it. Once you receive the package, it is your responsibility to keep it alive.

Do not place the package in heat nor in the light--that will kill the bees. Keep them in the dark around 50-60 degrees until you install them in the hive.

The feeder cans in the packages are not scientific, do not rely on them to keep your package alive. Please spray packages down with sugar water periodically until they are installed.

We guarantee the queen will be alive in the swarm box (bee package) for 3 days from the scheduled day of pickup. On the day that you install the package (within the three day period), if the queen is dead, call and we will provide a replacement. Before installing the queen, make sure that she is alive in the cage. Inspect the corks to be sure that no cork is missing. When installing the queen cage, be sure that the screen is open to the bees--do not place the queen cage screen against the frame bar. Install the queen where the cluster will form--do not put the queen on the bottom board, as it is the coldest part of the hive.

We recommend that you keep the sugar water entrance near the queen cage--the best way to feed is through a jar with holes over the inner cover. If the weather is colder than 50 degrees at night, the bees may starve if the cluster is not touching both the sugar water and the queen cage. We do not recommend boardman feeders, top feeders, or frame feeders if the temperature at night is colder than 50 degrees, especially if you are installing a package in a new hive on foundation.

For feeding packages, we recommend light sugar water the consistency of nectar (1:1 sugar to water). One recipe is 5 lbs sugar to 3/4 gallon hot water from the tap. Use ony white granulated sugar. Do not use honey that is not your own, brown sugar, organic sugar, nor molasses. Some of these may kill your bees or spread American Foul Brood (AFB), an extremely contagious bee disease.

If the bees from your package become lethargic or start to pile up on the bottom board, they are most likely starving. If the hive has not gone too long, you can spray the bees with light sugar water and allow the sun to warm the bees. This may revive them. Please do not starve your bees!

It is very important to leave the queen caged until the workers have settled down and accepted the hive body--possibly 4-5 days, especially if the box is freshly painted or has never had bees before.

If you install more than one hive in the same location, the package bees may drift and one hive may become stronger or weaker than the others. You can minimize this issue by using entrance reducers, placing grass in the entrance, or installing the packages later in the evening.

If the queen dies or is not accepted, place a frame containing some brood in the hive. This will keep the bees from leaving and also prevent laying workers. (See below.)

We recommend that you do not order packages for top bar hives if the weather is expected to be cold (below 50 degrees at night), unless you have a way to feed the hive with sugar syrup directly near the queen cage.

Should you have any problems with queen acceptance, we may have some spare queens, which you may purchase at our cost. Please do not let the hive go for long without a queen or brood, as workers will start laying drones. (See below.)

Nucs:

Please check your nuc before you take it. If you are unhappy with the nuc for any reason, do not take it. Once you receive the nuc, it is your responsibility to keep it alive.

Laying Workers:

The workers are females and therefore have ovaries. The queen pheromone and the brood pheromone keep the workers from laying eggs. If your hive goes queenless or you think the hive has no queen, we recommend that you place a frame of eggs in that hive. The presence of brood will keep the workers from laying eggs.

If your hive is queenless and all of the brood hatches, the workers will then start to lay eggs (unfertilized drone eggs) and you will see many eggs in a cell and bumpy drone brood all over. At that point it is nearly impossible to recover the hive. (When this happens in nature, the hive will die.) Most beekeepers take the loss, dump the bees out, and start anew.

Do not let it get to that point; place eggs or brood in a hive whenever you think it may be queenless. We highly recommend that you have at least two hives or a nearby friend or neighbor with compatible-framed hives who can provide you a source of at least a frame with a few eggs.